Optical Fiber Curing Oven OFO-4800-H-MT
Model: OFO-4800-H-MT
Description:
This horizontal type fiber optic curing oven is designed for curing MT ferrule or assembled SC/FC/ST/LC/MU/SMA905 connector's
epoxy, and can also curing 2.50mm/1.25mm/3.17mm bare ferrule.
Constant temperature design, accurate temperature control. The
external protective cover plate makes the oven safe and reliable.
Application:
> It is specially designed for curing MT/MPO/MTP ferrule's epoxy. 18-24 cores can be cured at one time.
> It can also be used to cure the assembled SC/FC/ST/LC/MU/SMA905 connector's epoxy, cure 18 pieces of connectors at one time.
> The heating board is replaceable, the 2.50mm/1.25mm/3.17mm bare ferrule can be cured, 36 ceramic ferrule can be cured at one time at most.
> The temperature of 40-200 ° C can be adjustable, and the curing temperature is controlled by intelligent constant temperature, with a small temperature fluctuation of+/- 1 ° C.
> Built in timing unit, and buzzer will alarm and remind when timing is over.
> The MT ferrule shall be placed horizontally and solidified to prevent epoxy overflow.
> External protective cover can effectively avoid scalding and heat loss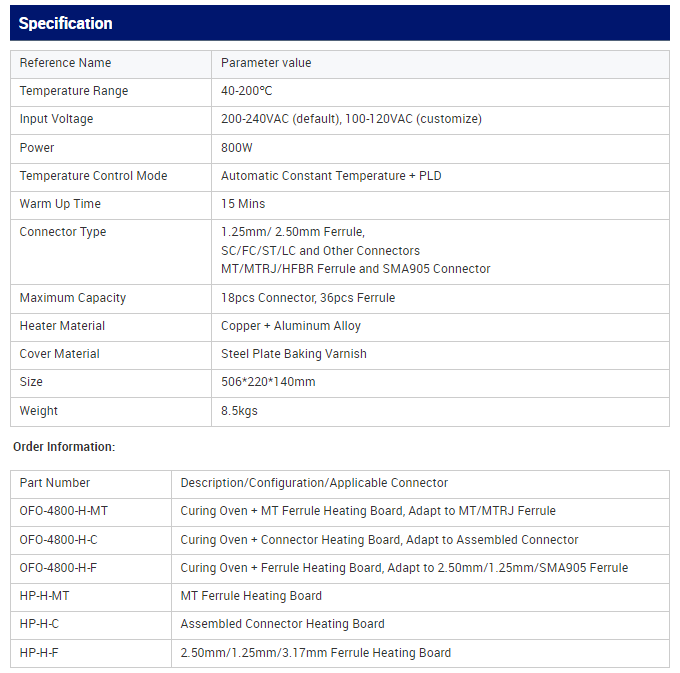 Shenzhen Neofibo Technology Limited is founded in 2008, locates Shenzhen China. Neofibo has dedicated to become the professional supplier for fiber optic polishing solutions and aims to make our customers' fiber connectivity more reliable.
During last 14 years, we have been comprised of a group of experienced fiber optic professionals in areas of connector polishing and assembling, outside plant installation, transmission system, datacom, CATV and testing. Neofibo could provide products and service for you, whether you are fiber optic scientist working in multi-gigabit, DWDM, EDFA applications, maintenance engineer  for optical connecting system, an outside plant contractor providing splicing and testing, a datacom manager who works in multimode-to-single mode conversion or you are an optical fiber component manufacturer who needs lots of high quality pigtails, consumables and tools, you can count on us to offer you the verified solution.
Neofibo is focusing on the field of fiber optic polishing solutions.
We specialize in manufacturing fiber optic polishing machine, design various optical fiber connectors polishing fixtures, provide completed polishing process and materials for all kinds of fiber optic connectors.
Neofibo could provide the whole sets of production equipments for fiber optic patch cord, such as fiber optic polishing, end face inspection microscope, functional inspection and detection, raw materials as fiber optic cables and fiber connectors, processing tools and cleaning consumables.
Neofibo can provide not only products, but also technical services and R & D support.
Neofibo should be your partner forever.


What does NEOFIBO offer?
We offer full range of quality and comprehensive fiber optic products, including Patchcord Production Machine, polishing jigs, as Seikoh Giken, Senko, Domaille or customized ones; Polishing Consumables, Tools, Cleanings, Tool Kits, Testing Equipment, Splice Items. We commit to offer you Attractive Price, Excellent Quality and Fast Delivery!
What will be the delivery cost?
All price listed are FOB Shenzhen. Your nominated courier is acceptable. Otherwise, we will use FEDEX, DHL, UPS or any other forwarder per confirmation and charge accordingly.
How the goods will be delivered?
For normal stock items, they will be dispatched within 1-2 business days after payment confirmation. However, for items out of stock, estimated leadtime will be 3-10 working days.
How can I order the goods?
Neofibo is pleased to offer our valuable customers three ordering channels.  e.g.:  Online Ordering, Fax Order Form and Issuing Formal Purchasing Order by mail.
How is the warranty for NEOFIBO product?
All products are warranted by NEOFIBO (consumables, normal tear and wear excluded) for one year after date of purchase. Any part defected in material or workmanship and returned to NEOFIBO, as NEOFIBO designates, shipping costs prepaid, will be, as the exclusive remedy, repaired or replaced, at NEOFIBO's option.