Fiber Optic Polishing Fixture SC-APC-18SK
Time: 2018-12-27 Edit: Admin
Fiber Optic Polishing Fixture SC-APC-18SK
1.Applied for Senko APC-8000 polishing machine.
2.Designed for SC/APC connectors.
3.Easy to change jigs, simple and flexible to operate.
4.High efficiency, polishing Max 18 connectors in one cycle.
5.Excellent connector end-face polishing quality.
1.Machine Size

130mm*50mm

2.Net Weight

0.6kg 

3.Max capactiy

24 

connectors

SC/APC connector polishing

5.Suitable Machine

Senko polishing machine APC-8000

6.Materials

Hardened stainless steel S136
Features
1.Applicate to SC/APC connectors polishing.
2.High efficiency, and polishing 18 connectors in one cycle.
3.PC return loss as low as -60 dB, insertion loss 0.2 dB typical.
4.Holders on jig replacable, effeciency for polishing cost saving.
Applications
1.Used to polishing SC/APC connectors polishing.
2.Available for Senko APC 8000 polihsing machine.
APC-8000 Polishing Fixture Specification list: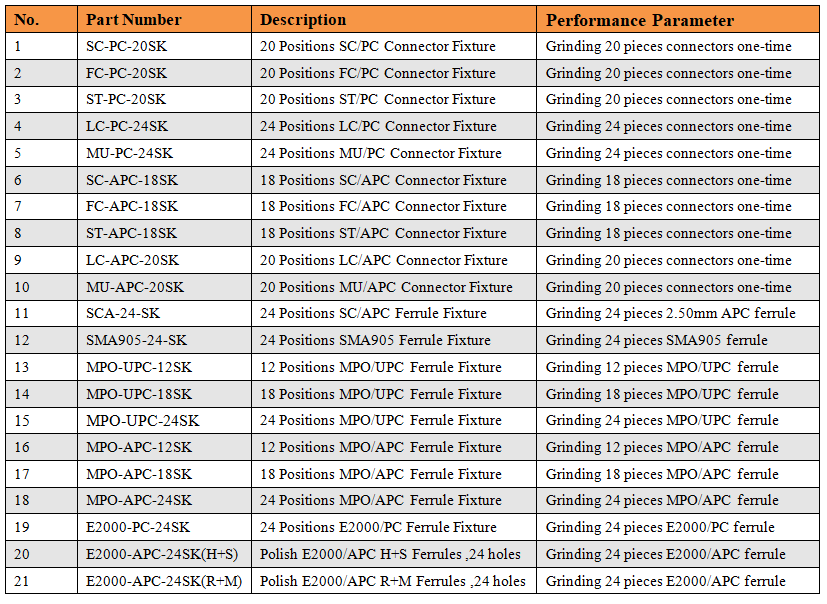 Remark: If the polishing fixture you need is not in the list above, please contact our sales representative, we will provide a solution within 24 hours.