Descriptions:
MT Pro is a dual light source interferometer that integrates single and multiple cores. Independently developed and patented optical system to increase the size of the inspection field of view, the multi-core uses non-contact white light scanning measurement, and the single-core is developed using the principle of red light coherence. It can quickly and automatically detect the index parameters of the 3D shape of the connector surface automatically and accurately, and display and save the measurement results. Equipped with a variety of high-performance testing fixtures, widely used in laboratories and manufacturing.
Main Features :
Up to 1.5um image resolution;
Quick measurement, 0.5s for Single fibre or 5s for 12 core MT High repeat-ability ;
High accuracy, calibrated with 0.1nm laser interferometer Ferrule frame mounting ;
Compatible with single to 72 fibre measurement;
FOV 4.3*3.3mm, capable for 16 core MT measurement Auto focus and Auto measurement;
Auto calibration with reference mirror ;
Quick switch between 0° and 8° fixtures;
  Up to 1.5um image resolution
MT Pro uses an upgraded optical system to accurately restore the details on the MPO facets and profile. The accurate raw data ensures the trust-able 3D testing results.

Single Fiber Height
The new optical and mechanical design ectend the single fiber height range to -1000~+1000nm, in all testing conditions.
High repeat-ability
10 continuous testing results without plug-in and plug-out.
Repeat-ability of Fibre Height, 12 core MPO

Repeat-ability of Fibre Core Dip, 12 core MPO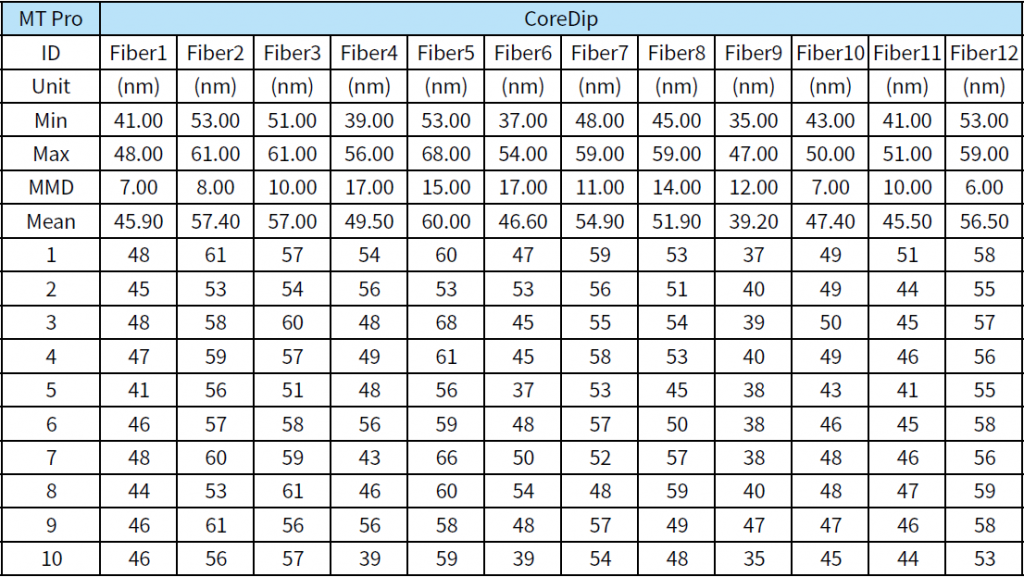 Accurate testing result
Each MT Pro system is calibrated with 0.1nm laser interferometer. The accuracy and consistency are committed for the key parameters for MT/MPO measurement, including ROC, Fibre height and Core dip.
Almost identical Coredip Value and fiber morphology
Auto focus
MT Pro can be configured to start a measurement from Auto Focus function. The Auto Focus function can eliminate the difference on each fibre channels. Further more, with Auto Focus function, the measurement procedure is significantly simplified, especially for APC connectors.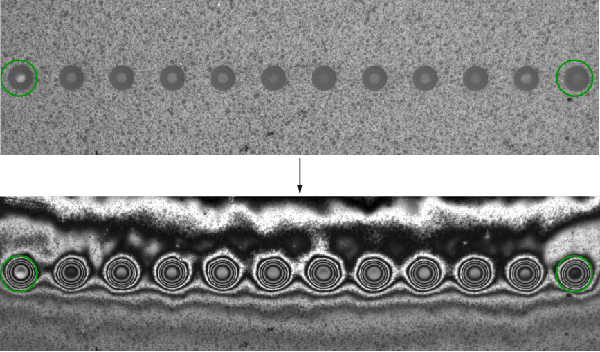 Auto calibration with reference mirror
MT Pro applies reference mirror to calibrate the instrument automatically and maintains the peak performance at all conditions. Compared with manual tuning stage and data compensation, the auto calibration is quick and accurate.
Unique frame mounting fixture for MT ferrule
1. The frame mounting fixture for MT ferrule is compatible with MT4, MT8, MT12, MT16,
MT24, MT32, MT48 and MT72. Only one fixture is needed to test all MT ferrules.
2. Committed accuracy and repeat-ability for Ferrule angle measurement .
3. Endurable and long life time fixture.
4. Safe to PIN hole of DUT.
5. Helpful to analyze the accuracy of polishing jig.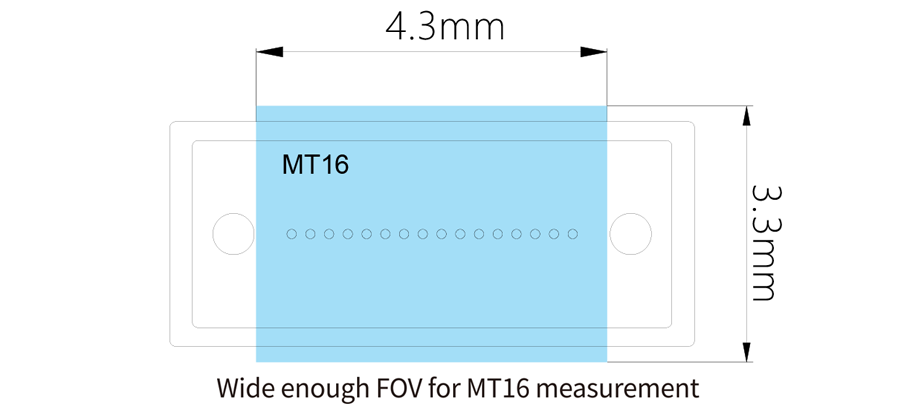 Quick switch between 0° and 8° fixtures 
With the special designed fixture platform, 0° and 8° fixtures can be switched quickly. No extra calibration is needed. The high repeat-ability and reproducibility are guaranteed. The fixture platform is compatible for all types of MT/MPO PC and APC products.
Quick switch between PC and  APC
One click operation 
Only one clicking is needed to complete the whole measurement procedures, including auto focus, scanning, analysis and all calculations. The testing report will be ready in seconds.
Intuitive software interface and excellent 3D rebuilding
MT Pro applies intuitive and modularized software interface. The real time image, 3D profile, cross section, roughness and testing results are displayed in the user interface. The operation and configuration are convenient and user-friendly. Single/Multi-Channel measurement with one-click switching.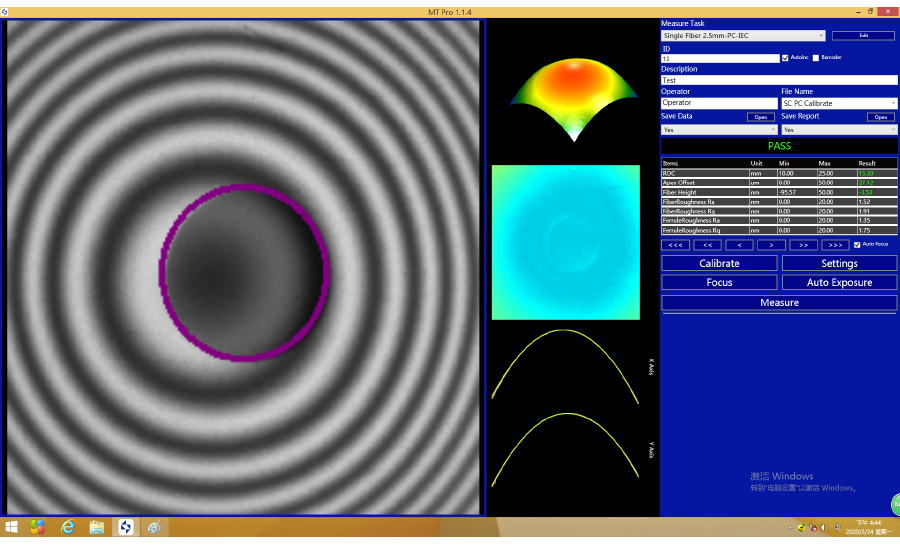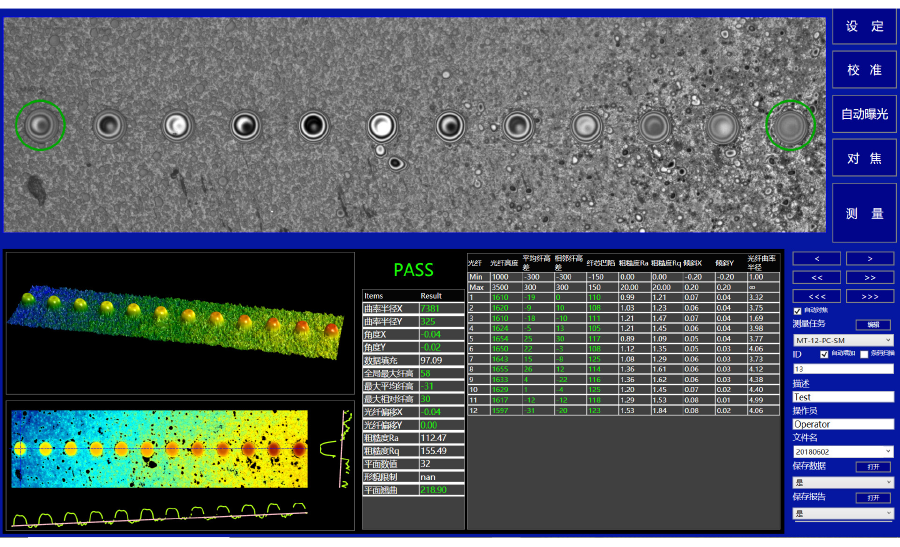 The details of the 3D profile visualize the polishing result and helps to analyze and improve the polishing process.
Quick measurement 
The MT Pro hardware and software design improves the speed for MPO measurement. It takes only 0.5 second for single fibre measurement or 5 second for 12 core MPO measurement.
Fixture type
Specifications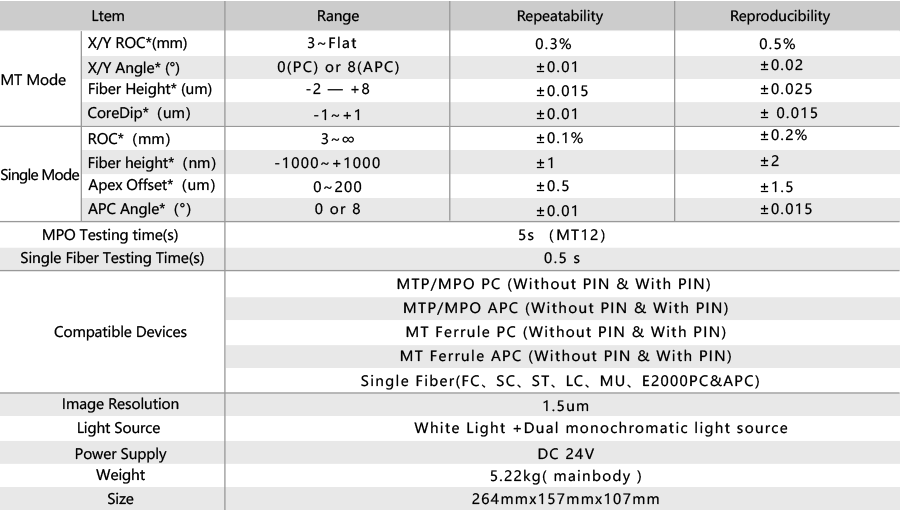 Remarks:
*Repeatability and Reproducibility are sigma values.
Repeatability is measure 50 times without moving connectors.
Reproducibility is measure 50 times with pull and plug.
Main application
Used to inspect MTP/MPO PC and APC, MT Ferrule PC and APC, Single Fiber(FC、SC、ST、LC、MU、E2000 PC and APC)
Shenzhen Neofibo Technology Limited is founded in 2008, locates Shenzhen China. Neofibo has dedicated to become the professional supplier for fiber optic polishing solutions and aims to make our customers' fiber connectivity more reliable.
During last 14 years, we have been comprised of a group of experienced fiber optic professionals in areas of connector polishing and assembling, outside plant installation, transmission system, datacom, CATV and testing. Neofibo could provide products and service for you, whether you are fiber optic scientist working in multi-gigabit, DWDM, EDFA applications, maintenance engineer  for optical connecting system, an outside plant contractor providing splicing and testing, a datacom manager who works in multimode-to-single mode conversion or you are an optical fiber component manufacturer who needs lots of high quality pigtails, consumables and tools, you can count on us to offer you the verified solution.
Neofibo is focusing on the field of fiber optic polishing solutions.
We specialize in manufacturing fiber optic polishing machine, design various optical fiber connectors polishing fixtures, provide completed polishing process and materials for all kinds of fiber optic connectors.
Neofibo could provide the whole sets of production equipments for fiber optic patch cord, such as fiber optic polishing, end face inspection microscope, functional inspection and detection, raw materials as fiber optic cables and fiber connectors, processing tools and cleaning consumables.
Neofibo can provide not only products, but also technical services and R & D support.
Neofibo should be your partner forever.


What does NEOFIBO offer?
We offer full range of quality and comprehensive fiber optic products, including Patchcord Production Machine, polishing jigs, as Seikoh Giken, Senko, Domaille or customized ones; Polishing Consumables, Tools, Cleanings, Tool Kits, Testing Equipment, Splice Items. We commit to offer you Attractive Price, Excellent Quality and Fast Delivery!
What will be the delivery cost?
All price listed are FOB Shenzhen. Your nominated courier is acceptable. Otherwise, we will use FEDEX, DHL, UPS or any other forwarder per confirmation and charge accordingly.
How the goods will be delivered?
For normal stock items, they will be dispatched within 1-2 business days after payment confirmation. However, for items out of stock, estimated leadtime will be 3-10 working days.
How can I order the goods?
Neofibo is pleased to offer our valuable customers three ordering channels.  e.g.:  Online Ordering, Fax Order Form and Issuing Formal Purchasing Order by mail.
How is the warranty for NEOFIBO product?
All products are warranted by NEOFIBO (consumables, normal tear and wear excluded) for one year after date of purchase. Any part defected in material or workmanship and returned to NEOFIBO, as NEOFIBO designates, shipping costs prepaid, will be, as the exclusive remedy, repaired or replaced, at NEOFIBO's option.